MacOS Catalina – Should You Upgrade?
(Update Oct. 2019 – Catalina breaks almost all current DJ program's ability to read the iTunes library. If you use DJ software, triple-check with the author to ensure compatibility, or heartbreak will ensue.)
(Second Update: If you want Software Update to quit bugging you about updating to Catalina, OSXDaily describes how to turn those pesky notifications off.)
Apple is slated to release the latest version of its Mac operating system, 10.15 Catalina in September of 2019. As with many major operating system updates from Apple, this version introduces some huge changes under the hood. Because this new system runs in 64-bit, many of the apps that you've been using for years may no longer work in Catalina.
Unless you have a pressing reason to upgrade right away, we recommend waiting to upgrade, perhaps until 10.15.1 or even 10.15.2 is released later in the year. In the meantime, there are some things you can do to prepare for that day. Educating yourself is the best thing to help you with that.
What is new in Catalina?
Catalina has more major new features than we've seen in past macOS upgrades. There are a few new apps, and several other apps with major new features. Performance has been improved and usability has been increased. Here's a quick list of some of the new features and apps:
Project Catalyst: iPad apps that have been brought over to the Mac
Music, Podcasts, and Apple TV apps that replace the iTunes app
Improvements to the Photos and Notes apps
Three new features in Apple Mail: mute a thread, block a sender, and unsubscribe
Safari updates
A redesigned Reminders app
A new Find My app that combines the features of Find My iPhone and Find My Friends
Screen Time for Mac
Sidecar, for using an iPad as an external display
Voice Control
What's Different about Catalina?
Apple has announced that macOS 10.14 Mojave will be the last version capable of running 32-bit applications.
You've probably been seeing alerts like this one:
As Apple finalizes its transition to all-64-bit code, Mojave and High Sierra present an alert like this when you launch a 32-bit application. While it's not a crisis now, you'll need to upgrade or replace those applications before you update to macOS 10.15 Catalina later this year.
St. Claire Software has created a very handy and free utility, Go64 that will show you what apps are still 32-bit and which ones will NOT work under Catalina. If you run this utility and find that you have mission-critical apps that are 32-bit, do NOT upgrade to Catalina until you find an upgrade or a replacement. Downgrading from Catalina backwards to Mojave is a non-trivial and complicated action that I do not recommend. You will want to do this homework so that you don't find yourself stuck in a big mess.
RoaringApps has a site with listings of which apps are compatible with which operating systems.
MacUpdater is a free utility that you can run and it will give you a listing of what needs updating, plus 10 free in-line updates.
What About iTunes?
You may have heard that Apple is discontinuing iTunes and is instead releasing three separate apps to handle what iTunes previously did. Before you take the Catalina plunge, you should consolidate your iTunes library so that nothing gets lost in translation.
Consolidation means making sure that all your audio files are in one place. It means that whatever you or iTunes has ever done with any of your media, you can straighten it out now.
It's possible, for instance, to have media that is listed in your iTunes library but actually, physically resides somewhere else. But exactly where? We're talking a decade and a half of using iTunes; nobody remembers this stuff.
Yet if you don't check it, you could end up discovering that these other files were not copied.
So in iTunes on your Mac, go to the Files menu, choose Library and then Organize Library. Click the box marked Consolidate files and then OK.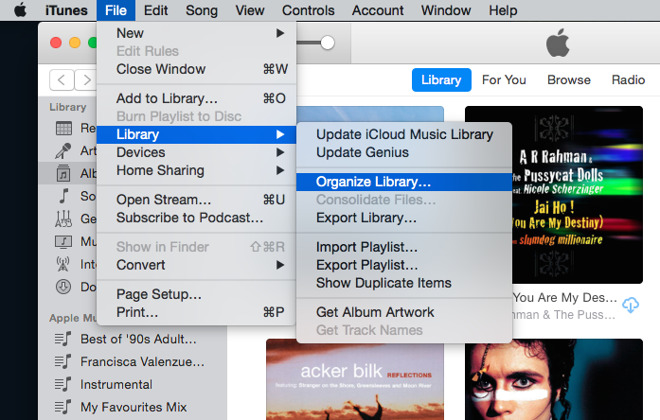 If you have any media listed in iTunes but is actually somewhere else, this will bring it all in to iTunes. What it really does is copy any such file. It places the copy within the iTunes Media Folder and updates the iTunes library to say where it is now.
Your files will be specifically copied; not moved. So at the end of this process, you will have two copies of any such media. You could delete the original that's outside the iTunes library, but make sure you've got a backup of the iTunes one first.
What About Microsoft Office 2011?
The 2011 version of Microsoft Word, Excel and Powerpoint (as well as Outlook) will not run under Catalina. In this area, you have basically two options: get Microsoft Office 2019 for Mac or a non-Microsoft alternative.
For Microsoft Office 2019 Mac, Amazon has a number of options, including a one-time purchase (with limited update and upgrade options); and a subscription model – either a single license or an economical family 6-pack to share with your housemates. Costco has the same 6-pack package available for $70 for members.
For non-Microsoft alternatives, LibreOffice, OpenOffice, and FreeOffice are all free, though somewhat limited in how they handle documents with complicated formatting. These apps, similar to Google's Suite of online apps can work well for occasional usage.
Back up your data before you upgrade
Securing your data is critical. Before you go for any macOS updates, make sure you've backed up your Mac so that nothing gets lost in the shuffle. By far, the easiest way to do that is with Apple's Time Machine:
Go to Apple menu > System Preferences > Time Machine.
Click on Select Backup Disc and choose the disc from among available options.
Check the box for "Back up automatically."
Help, Mr. Wizard – It's all too much!
Yes – that's why we are here. We can do the entire upgrade for you – when the time is right. Contact Us when you are ready and we can get it done together!